The Magnificent Seasons - Autographed copy
MagB1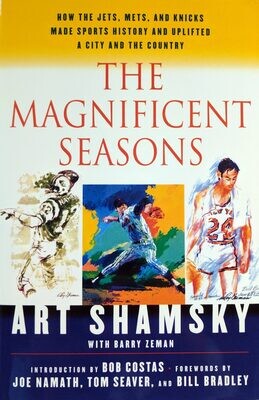 Price :
39.95
USD
In stock
First 50 orders this weekend 06/23-06/25 Will receive a free hand signed photo! (approx. 6"x3.5")
In 1969, three underdog New York sports teams won World Championships. It was an unprecedented feat in the history of sports, and it helped bring the nation's largest city---and much of the country---euphoria to balance the lingering despair of 1969.
In reflecting on these events, what they meant then, and what they still mean today, Art Shamsky, a 1969 "Miracle" Met, introduces the thoughts of members of every team. Highlights include comments from Joe Namath, Tom Seaver, Bill Bradley, Yogi Berra, Emerson Boozer, Jerry Koosman, and many more. But as important as these wins were to the players and coaches who made them happen, their victories meant just as much to the city and the people who celebrated them, and Shamsky includes their perspectives through Bob Costas, David Halberstam, Rudy Giuliani, and many other fans of the city and its sports.
"While all championships bring excitement, sometimes even joy, each of these teams had something more. They each had a kind of soulfulness and authenticity of spirit not often seen---then or now."
---from the introduction by Bob Costas